Annual Reports
Annual Reports
The Year In Review
The Year In Review is a review of the weather and climate in the previous year.  It summarises the main climatic features and notable weather events that affected Singapore and is a prelude to the comprehensive Annual Climate Assessment Report which is released around March.
Annual Climate Assessment Reports
The Annual Climate Assessment Report is an annual publication that provides updates on climate trends over Singapore, a description of the key climatic features and the notable weather events that have affected Singapore during the year.  It aims to provide the necessary information to appreciate the state of the current climate of Singapore and place it within a historical perspective.
Annual Climatological Reports
The Annual Climatological Reports are the Meteorological Service Singapore's official summaries of the Singapore climate. They contain detailed monthly, daily and hourly weather statistics of all stations around Singapore, as well as isohyets and wind rose, during the reporting year.
2022
| | | |
| --- | --- | --- |
| Annual Climate Assessment Report | | The Year In Review |
2021
| | | |
| --- | --- | --- |
| Annual Climate Assessment Report | | The Year In Review |
2020
| | | |
| --- | --- | --- |
| Annual Climate Assessment Report | | The Year In Review |
2019
| | | |
| --- | --- | --- |
| Annual Climate Assessment Report | | The Year In Review |
2018
| | | |
| --- | --- | --- |
| Annual Climate Assessment Report | Annual Climatological Report | The Year In Review |
2017
| | | |
| --- | --- | --- |
| Annual Climate Assessment Report | Annual Climatological Report | The Year In Review |
2016
| | |
| --- | --- |
| Annual Climate Assessment Report | Annual Climatological Report |
2015
| | |
| --- | --- |
| Annual Climate Assessment Report | Annual Climatological Report |
2014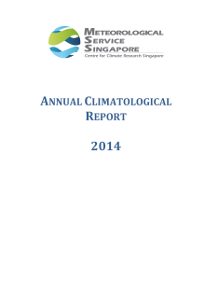 Annual Climatological Report