About
Our Organisation
Our Organisation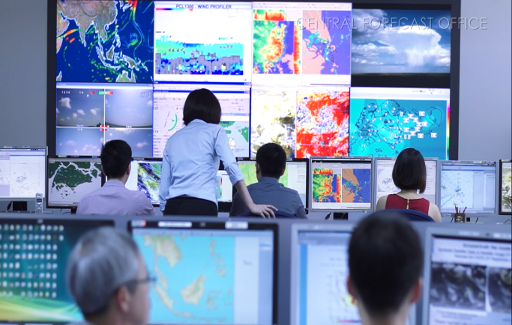 Meteorological Service Singapore Corporate Video
The Meteorological Service Singapore (MSS) is Singapore's national authority on the weather and climate. It is an operations division under the National Environment Agency (NEA) . The key departments within MSS are:
Weather Services Department (WSD)
WSD provides round the clock weather forecasts, warnings, monitoring and assessment for critical sectors such as civil aviation, military, maritime, private/public agencies and the general public.
Meteorological Systems Department (MSD)
MSD provides support in key installations, meteorological equipment and computer systems, to meet MSS's operational and technical requirements.
Risk and Resource Department (RRD)
RRD analyses risks and assesses their impact from the corporate/organisational angle.
Centre for Climate Research Singapore (CCRS)
CCRS is a leading centre in tropical climate and weather research focusing on the Southeast Asia region. Find out more about its research work here.
MSS hosts the ASEAN Specialised Meteorological Centre (ASMC), which was initiated as a regional collaboration programme to enhance the capacity of meteorological services in ASEAN member countries.
Director General
Ms Wong Chin Ling
Director
Ms Patricia Ee
---
Weather Services
Department
Director
Mr Lesley Choo
---
Meteorological Systems
Department
Director
Vacant
---
Risk and Resource
Department
Director
Prof Erland Källén
---
Centre for Climate Research
Singapore
Our Vision

To be a world-class meteorological centre of excellence contributing to public safety and enhancing quality of life
Our Mission
To observe and understand the weather and climate affecting Singapore and to provide services in support of national needs and international co-operation. The key areas within the mission include:
Collecting and maintaining of reliable long-term national weather records
Providing reliable weather and climate services
Conducting high quality research to advance understanding and prediction of the weather and climate of Singapore and the region
Performing risk and impact assessment of natural environmental hazards